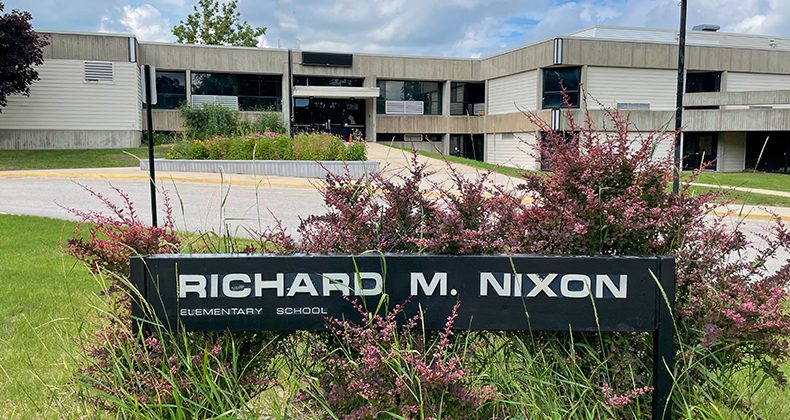 Welcome to Nixon Elementary School! Named after the 37th president of the United States, Nixon Elementary was opened in 1970. We have over 340 learners from age three to fifth grade, offer classes in art, music, physical education, guidance, media and technology integration, and learning experiences tied to STEM.
Our mission in Cedar Rapids is to ensure all learners experience a rigorous and personalized learning experience so they have a plan, a pathway, and a passion for their future. At Nixon, we work hard to ensure all children have learning experiences that will prepare them to be future ready.
We prepare our learners through creating blended learning environments in all classrooms starting in kindergarten. Differentiated and personalized small group learning paired with online tools and technologies helps to support the work of our learners each day. Every child is given the opportunity to learn in the best place, at the best pace, and on a path that is specific to them.
We also work hard to support our learner's social, emotional, and behavioral needs in the classroom and beyond. We create safe and inviting learning environments where our learner's voices are heard and respected. We also focus on teaching our learners soft skills through the 16 habits of mind.
We have amazing community support through our active parent teacher association (PTA). From fundraising, to family friendly events like our annual Nixon carnival, the PTA positively impacts the learning environment for our children and supports our school on a daily basis.
School history
Nixon Elementary was named after Richard Milhouse Nixon, the 37th president of the United States, while he was still in office. Nixon Elementary opened on August 31, 1970.
In the 1986-87 school year, Nixon received the First in the National Education (FINE) Award. The walking trail around Nixon was dedicated on October 8, 1992.
Richard Nixon's brother, Ed, visited Nixon Elementary for the 25th anniversary in April of 1995. The U.S. Department of Education named Nixon Elementary a Blue Ribbon School in 2009.
---
Key contact